Cumberland River Moonbow Trail, Kentucky
Backpacking Workshop and Weekend Trip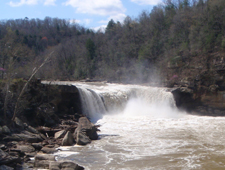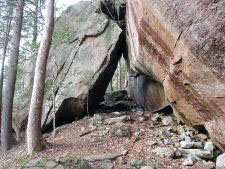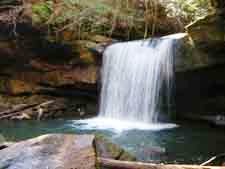 Backpacking Workshop and Weekend Trip
Skill: Level II
April 6 - 8, 2018
Cumberland Falls State Park near Corbin, Kentucky
Meets at noon
Fee: $155
Prerequisite: Our Backpacking Workshop & Overnight Trip or equivalent.

Ready to take your backpacking skills to the next level?
Description:
Join other adventurous hikers on this Level II trip. This is a two night, backpacking trip for people who have completed our one night backpacking workshop or have equivalent experience. Let's take the skills you have learned and put them to use on a weekend trip. It includes four workshops on backpacking essentials that every backpacker should know. This trip is designed for those with prior backpacking experience who want to take the next step and learn more. Note: Participants must be at the trailhead by noon on Friday.
Limit 6 participants. WORKSHOP FULL. Join the waiting list.
Want to be added the waiting list?
Contact:

Disconnect on this trip! We'll be out of cell range for most of the time!
About The Moonbow Trail:
This is a scenic hike right in the heart of the Daniel Boone National Forest. The Moonbow trail is part of the Sheltowee Trace which is Kentucky's longest trail. It is 320 miles long and goes from Tennessee north to near the Ohio River. On this hike we will see Cumberlands Falls which is called the "Niagara Of The South". Cumberlands Falls is one of two places in the world where a "moonbow' can be seen in the mist of the falls during a full moon.
About The Sheltowee Trace:
The Sheltowee Trace is a 319 mile National Recreation Trail that stretches from Tennnessee to almost the Ohio River. It is Kentucky's longest trail and traverses the length of the Daniel Boone National Forest. Along the way are numerous sandstone cliffs and recess cave, rivers, streams and waterfalls. The trail is marked with white diamonds with the outline of a turtle. "Sheltowee" is the Shawnee word for "Big Turtle" which is the name they gave Daniel Boone.
We'll see Dog Slaughter Falls, Star Creek Falls and a number of beautiful streams cascading down to the Cumberland River. We'll hike among giant sandstone boulders, tall hemlock trees and profuse rhododendron. The Moonbow Trail follows the Cumberland River, a state wild river, for its entire length. Although there are no great elevation changes on this hike there are many short steep ups and downs which can be challenging. This is a very scenic trail.

Details:
We'll hike ~12 miles over three days. This trip is designed to be both a learning experience and a backpacking adventure. The goal of this trip is to help each participant become more confident in his/her own backpacking ability while enjoying the scenic beauty of the Rockcastle Narrows region of the Daniel Boone National Forest.
Friday:
Plan to arrive no later than noon at the starting trailhead. We'll get shuttled to the start of our hike near the Mouth of Laurel. We will hike hike ~3 miles at a moderate pace along the Cumberland River on the Moonbow Trail to our campsite where we will spend the night.
Saturday:
We will pack up, hike about ~6 miles over varied terrain which includes some rugged trail to our second campsite along the beautiful Cumberland River. Along the way we will visit Star Creek Falls and take a short side trail to Dog Slaughter Falls.
Sunday:
We will hike ~3 miles back to our cars arriving before noon. We will finish at beautiful Cumberland Falls in Cumberland Falls State Park.
Map Link To Cumerland Falls State Park
During this backpacking trip we will conduct four short workshops and cover these topics:
Bear Bagging - Beyond The Basics.
Map reading, route finding and basic compass skills.
Water treatment. Pros and cons of the different methods.
Campsite selection - How to pick a great campsite.
If needed we will do a refresher on these topics we learned in the one night backpacking workshop:
Proper Backpack Fitting
Bear Bagging - Hanging Your Food In A Tree
Backcountry Sanitation & Hygiene In The Woods
Fire Building
Backpacking Stoves & Cooking
Leave No Trace Principles
What Is Included?
Your registration fee includes professional guides, all workshops, course material and any shuttle, camping, parking or permit fees.
Not included: Gear, meals, snacks, transportation, and optional guide gratuity.
Required Equipment:
Backpack and backpack rain cover
Pair of trekking poles.
Tent (1 person tent if solo or 2-3 person tent if shared with a friend)
Sleeping Bag & Pad
Headlamp or Flashlight
Warm Clothes (warm hat, gloves, long underwear, down jacket or equivalent, 2-3 pairs of wool socks)
Stove and fuel (if cooking hot meals)
Water treatment (filter or chemical)
Rain Gear
Bandanna, whistle, drinking cup.
Food: Friday Supper through Sunday Breakfast.
Pack weight not to exceed 35 pounds.
Personal medications: Aspirin, Ibuprofen, Antacids, Pepto-Bismol, Prescriptions (as needed).
Don't Have Backpacking Gear? Rent It For A Low Cost!
Rental Gear:
For only $45 you can rent a backpack, tent, sleeping bag and sleeping pad for the night. We have both two-person and one-person tents. People renting a two-person tent will be paired with someone who is renting gear also. Let us know your preference for a two-person or one-person tent and if you already have a tent mate selected. The gear will be distributed at start of the hike for you to carry. The rental gear is first come-first served and must be paid for in advance. Rental gear quantities are limited.
Choose the rental gear option from the PayPal drop down box below.
Your Guide: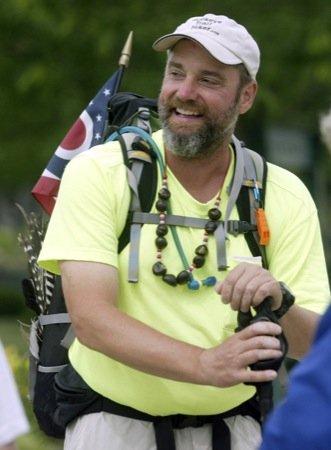 Andy "Captain Blue" Niekamp.
Andy Niekamp is the Chief Adventure Officer for Outdoor Adventure Connection, which specializes in backcountry adventures. Andy has backpacked over 14,000 miles including four end to end hikes of the Appalachian Trail and thru hikes of the Buckeye Trail, Ohio To Erie Trail, Sheltowee Trace, Long Trail, Ozark Highlands Trail, Colorado Trail, Superior Hiking Trail, John Muir Trail and the Bartram Trail. Andy is founder and leader of the Dayton Hikers group, the largest outdoor recreation group in Dayton, Ohio, and a Leave No Trace Master Educator. Andy Niekamp grew up and lives in Dayton and has a passion for long distance hiking which he shares with others. Andy brings his wealth of backpacking experience and his passion for hiking to this program. He has two rules for his backpacking trips. Number 1: Be safe. Number 2: Have fun!
Here Is What They Say About Our Workshops:
I learned so much on this trip, like how to fit my backpack, how to set up my tent, how to start a fire, how to cross a river and how to be a responsible backpacker. I was surprised that we got the chance to try so many varieties of backpacking food.
–
Junlan L.
I had so much fun, learned so much, and connected with great women.
–
Eunice H.
We would never have done our first AT trip if not for Outdoor Adventure Connection. The whole trip was awesome. I love that you even arranged perfect weather for us. I learned so much and feel much more comfortable now about hiking overnight.
–
Teri H.
Terrific! Andy was incredible! I learned, was reminded of so many essentials backpacking tips, tricks, and essentials - all in a fun, casual, inclusive, encouraging and informative way.
–
Dawn B.
I liked all the different workshops. I liked hearing advice from all the guides.
–
Teri H.
I am so appreciative of the gentle manner in which Andy guides, coaches, encourages you to learn and grow. He sets you up so you feel confident to tackle a backpacking trip on your own.
–
Traci B.
The course was perfect and so was the location.
–
Matt P.
Andy and Glenn did an awesome job in making us feel comfortable. It was such a nice group of people, beautiful place, making for a truly enjoyable weekend!
–
Barb L.
What can I say - I DID IT!!!! It was not as bad as I feared, and better than I hoped.
–
Jane G.
I loved that it was all planned for me and I could relax and enjoy it. The trail and views were awesome. The workshops were very informative. Andy made me feel safe and have fun. One of my best vacations ever! I cannot wait to get back out on the trail!! Thanks so much!
–
Teri H.
---
Operated on the Daniel Boone National Forest under a special use permit. Non-Discrimination Statement.
---
Cancellation Policy:
Your workshop fee is fully refundable if you cancel 21 days in advance or if this event is cancelled or rescheduled.
Important:
All participants must complete an adventure application and sign a liability waiver.
Adventure Application PDF with fill-able form fields
or
Adventure Application PDF to download/print.
Application must be returned for your registration to be confirmed. Note: If you've attended one of our trips in the last 12 months we have an application on file for you.
Notes:
Minimum age is 14. Adult family member must accompany minor children. Inquire about children younger than 14. No pets permitted. All of our trips are non-smoking. A recommended gear list, meeting location and trip details will be sent via email to registered participants.
The guide's depth and breadth of knowledge of backpacking and the outdoors was amazing! – Connie M.