Red River Gorge & Natural Bridge, Kentucky
Backpacking Workshop and Weekend Trip
Ladies Only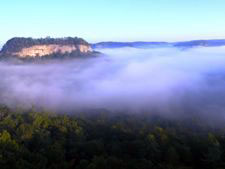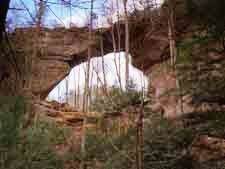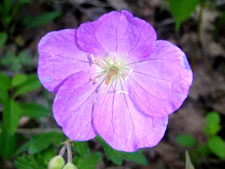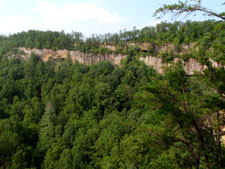 Backpacking Workshop and Weekend Trip
Skill: Level I
June 1-3, 2018
Natural Bridge State Park and Red River Gorge, Kentucky
Meets at Noon
Fee: $200/person
Includes Friday night motel lodging (double occupancy) and Saturday dinner on the trail.

This Is A Ladies Only Trip. Register with a friend!
Ready to learn about backpacking? This is a perfect opportunity!
Description:
This is a two-night trip for first time backpackers and beginning backpackers. It includes eight workshops on backpacking essentials that every backpacker should know. This trip is designed for those with little or no backpacking experience who have always wanted to try backpacking under guidance of experienced backpackers. Experienced backpackers are welcome too! Share your tips and hints!
Limit 7 participants. Spots Open: 1.
This same trip is also offered on April 27 - 29, 2018.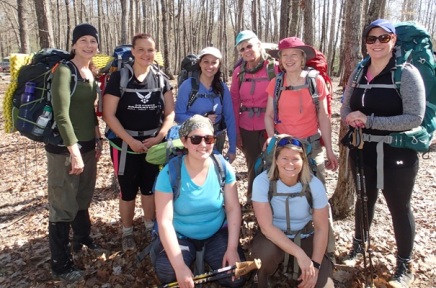 About Red River Gorge:
The Red River Gorge is a uniquely scenic area located in the Daniel Boone National Forest. It is a popular destination for backpackers and is known for its abundant natural stone arches, unusual rock formations, and spectacular sandstone cliffs. Outdoor enthusiasts come to the gorge year-round to enjoy hiking, camping, and wildlife viewing. The Red River Gorge is designated as a national geological area by the U.S. Forest Service.
Red River Gorge Web Site
About Natural Bridge State Park:
Natural Bridge State Park has some of the most unique geological formations, and breathtaking views found anywhere in Kentucky. The sandstone arch, from which Natural Bridge State Resort Park derives its name, took millions of years to form and is one of the most beautiful in the state. The park has 12 trails and 19 miles of scenic hiking.
Natural Bridge State Park Web Site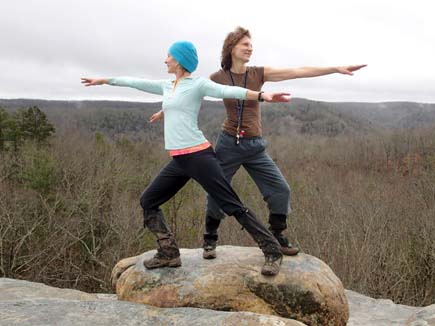 The Plan
Friday:
Meet your guide at noon at the Abner Motel in the Red River Gorge area. After check-in and introductions, we'll take a 3-4 mile day hike in Natural Bridge State Park on a trail that includes many scenic vistas. Along the way, we will teach some backpacking workshops to learn the fundamentals of backpacking. After the hike, we'll return to the Abner Motel for dinner (on your own). After dinner, we'll gather again and do some additional workshops.
Friday Lodging:
We'll spend Friday night at Abner Motel in the heart of "The Red." Abner Motel provides clean, basic rooms just minutes from both Natural Bridge State Park and Red River Gorge. Two gals to a room. Two full size beds to a room. Bring a friend!
Abner Motel Web Site
Saturday:
After breakfast (on your own), we will drive to Red River Gorge. We'll backpack 3+ miles to our campsite at a slow to moderate pace in the Red River Gorge over varied terrain which includes some hills and rugged trail where we will spend the night. Along the way, we will teach some backpacking workshops and stop to identify a few native plants. At our camp, we'll do some stretching and basic yoga poses.
Sunday:
In the morning, we'll hike ~3 miles back to our cars arriving before noon.
During this backpacking trip we will conduct eight short workshops and cover these topics:
Proper Backpack Fitting and Trekking Pole Adjustment.
Bear Bagging - Hanging Your Food In A Tree
Backcountry Sanitation & Hygiene In The Woods
Fire Building
Backpacking Stoves & Cooking
Leave No Trace Principles
Packing Your Backpack & Gear Organization
Water Treatment in the Backcountry
What Is Included?
Your registration fee includes Friday night lodging in Abner Motel (double occupancy), professional guides, all workshops, course material, camping, or permit fees, Saturday supper and dessert around the campfire. Supper will consist of sampling various backpacking food entrees. This is a great chance to check out different backpacking food choices and decide which you like best!
Not included:
Gear, meals, (except for Saturday dinner), snacks, transportation and optional guide gratuity.
Required Equipment:
Backpack
Tent
Sleeping Bag & Pad
Headlamp or Flashlight
Sitting Pad. Foam or Inflatable
Warm Clothes (warm hat, gloves & long underwear)
Rain Gear
Food: Saturday Lunch, Sunday Breakfast.
Personal medications: Aspirin, Ibuprofen, Antacids, Pepto-Bismol, Prescriptions (as needed).
A pair of trekking poles, hiking stick or staff is highly recommended!
Don't Have Backpacking Gear? Rent It For A Low Cost!
Rental Gear:
For only $35 you can rent a backpack, tent, sleeping bag and sleeping pad for the night. We have both two-person and one-person tents. People renting a two-person tent will be paired with someone who is renting gear also. Let us know your preference for a two-person or one-person tent and if you already have a tent mate selected. The gear will be distributed at start of the hike for you to carry. The rental gear is first come-first served and must be paid for in advance. Rental gear quantities are limited.
Choose the rental gear option from the PayPal drop down box below.
Wildflower Identification: The hills come alive every spring at Red River Gorge! You will enjoy the beautiful blooms of many shapes and colors that decorate the forest floor. We will make stops to observe, identify and photograph wildflowers. We will identify a few plants and discuss the fauna and flora of the area.
Your Guide: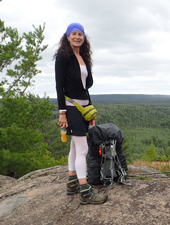 Yvonne "Princess Doah" Entingh.
Yvonne began her own outdoor backpacking adventures in 2008 and since then she has section hiked the beloved Appalachian Trail. Mainly as a solo female hiker she has gone on to also complete the Benton MacKaye Trail, Long Trail, Mountains to Sea Trail, Superior Hiking Trail, John Muir Trail and the southern portion of the Eastern Continental Trail hiking from Key West in the Florida Keys to the Appalachian Trail in northern Georgia. She has also completed the Knobstone Trail of Indiana, the Foothills Trail and has backpacked many a mile on the Sheltowee Trace and the Buckeye Trail. As a native of Dayton, Ohio her passion for the outdoors was developed through the Five Rivers MetroParks where she participated in hiking and backpacking excursions. A mother of three grown daughters and a grandmother of four grandchildren Yvonne takes great pleasure in nourishing those relationships. Yvonne loves outdoor adventure travel and is devoted to sharing it with others. Yvonne is certified in CPR/AED, Wilderness First Aid and as a Wilderness First Responder and is a Leave No Trace Trainer. Currently she is taking a course to sharpen her knowledge as a naturalist.
Read about Yvonne in the Dayton Daily News.
Here Is What They Say About Our Level 1 Workshops:
I really liked hearing about everyone's different experience and the tricks they learned while backpacking and camping. It was a great experience and I got to meet lots of really energetic, nice and wonderful people!
–
Katie H.
It was a great fall hike with great weather and great people to hike with and share the weekend. I learned lots this weekend.
–
Bob M.
I was really impressed by the Leave No Trace ethics game. It was really well done.
–
Margaret D.
Terrific! Andy was incredible! I learned, was reminded of so many essentials backpacking tips, tricks, and essentials - all in a fun, casual, inclusive, encouraging and informative way.
–
Dawn B.
I haven't enjoyed myself like that in a long time. Two beautiful campsites, totally different from one another; a very pleasant hiking pace.
–
Glenn R.
The trip and workshops were fantastic. I wouldn't change anything.
–
Normajean R.
Enjoyed the workshops and camping site. Thought everything excellent.
–
Ridge A.
Just cant wait for a longer trip!!
–
Darlene A.
I learned so much on this trip, like how to fit my backpack, how to set up my tent, how to start a fire, how to cross a river and how to be a responsible backpacker. I was surprised that we got the chance to try so many varieties of backpacking food.
–
Junlan L.
Had a great time, and everyone was friendly and fun as usual. Weekend was well organized, and super relaxing.
–
John S.
---
Operated on the Daniel Boone National Forest under a special use permit. Non-Discrimination Statement.
---
Cancellation Policy:
Your workshop fee is fully refundable if you cancel 21 days in advance or if this event is cancelled or rescheduled.
Important:
All participants must complete an adventure application and sign a liability waiver.
Adventure Application PDF with fill-able form fields
or
Adventure Application PDF to download/print.
Application must be returned for your registration to be confirmed. Note: If you've attended one of our trips in the last 12 months we have an application on file for you.
Notes:
Minimum age is 14. Adult family member must accompany minor children. Inquire about children younger than 14. No pets permitted. All of our trips are non-smoking. A recommended gear list, meeting location and trip details will be sent via email to registered participants.
Sign Up Now With PayPal - Choose Rental Gear Option If Needed
Sign Up By Mail
Make a check payable to
Outdoor Adventure Connection
for $200.00 (add $35.00 for rental gear) and mail to our
address
. Please include your include your name, telephone number, email address and name of trip. Please send an email to indicating your check is on the way so we can save a spot for you.
We learned a lot of new information about how to prepare ourselves for backpacking. It was great to be able to rent some equipment and try it out before making the investment in backpacking equipment. I also loved that you tailored the information to what folks wanted to know. Wonderful experience overall! – Kari M.