Carter Caves State Park, Kentucky
Volunteer Vacation - Trail Maintenance
Volunteer Vacation - Trail Maintenance
May 13 - 18, 2018
Carter Caves State Resort Park, Kentucky

Fee: $325/person - Includes Shared Lodging, Meals and Activities.

Fee: $550/person - Includes Private Lodge Room, Meals and Activities.

Help The Trails At Carter Caves State Resort Park!
Description:
Join the Carter Caves trail crew and spend a week at Kentucky's best kept secret learning about and doing trail maintenance. Your volunteer efforts will improve the trails at the park and make them safer and more enjoyable for park visitors. For seven hours a day, you'll be fixing erosion problems, installing water bars, pruning vegetation, removing downed trees, painting blazes and building new sections of trail. Your registration fee buys much needed materials for the park's trails.
No experience required! You'll be taught the basics of trail maintenance and will put those techniques to use. In the evening, enjoy fun activities at the park. All instruction and tools provided. Give back to the park! Come with a friend!
Limit 10 participants. Registration Has Closed.
About Carter Caves:
The beautiful setting of Carter Caves State Resort Park is the ideal setting for this volunteer vacation. Nestled in the hills of Eastern Kentucky, Carter Caves is 2,000 acres of wooded hills rich in plants, animals and geologic formations both above and below ground. Carter Caves is home to over 30 miles of hiking trails and over a dozen caves.
Park Web Site
View The Online Photo Album From the 2017 Volunteer Vacation
The Schedule
Sunday:
Afternoon: Arrive at the park. Check into your accommodations. Evening: Meet your trail crew, get oriented to the park and attend a program on the basics of trail maintenance. Take a cave tour!
Monday Through Friday:
Your day begins at 7:30 am with breakfast served family style in the lodge. At 8:30 am we'll meet at the Welcome Center to review our assignments and pick up tools for the day. We'll spend about seven hours working on the trails. Bring your own lunch. We will work rain or shine but not in hazardous weather. We'll wrap up around 3:30 pm. We'll meet again at 5:30 pm for dinner. After dinner we'll enjoy an optional, fun activity in the park. Friday we will finish around noon.
Check Out:
Friday is a volunteer day until noon, but you'll need to check-out of your accommodation in the morning unless you have made prior arrangements to stay. The housekeeping crew needs to prepare the rooms for the busy weekend.
Evening Activities
Sunday - Walking Tours of X-Cave
Monday - Canoeing on Smoky Lake
Tuesday - A Visit To Bat Cave - Wild, But Mild, Caving
Wednesday - Box Canyon Hike & Cascade Cave Tours
Thursday - Miniature Golf.
On Your Own - Hiking On The Park's 30 Miles of Trails
On Your Own - Exploring the Park's Six Natural Arches and Bridges
And More!
Lodging
The Cottages:
No roughing it here! These deluxe cottages have all of the modern conveniences of home. Each cottage has two bedrooms, four double beds, two full bathrooms, full kitchen, wood burning fireplace, couch, covered deck, TV and telephone. Tableware, cooking utensils, linens and firewood are provided. The cottages have a refrigerator, microwave, dishwasher and coffee maker. Daily linen is service available. Four people to a cottage. Pick a room-mate or come with three friends and have a cottage to yourselves.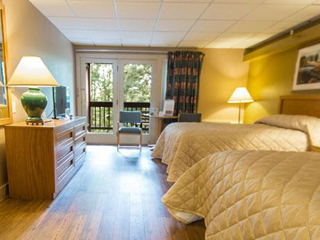 Lodge Rooms:
Each room features a private balcony or patio overlooking the surrounding woodlands and has two double beds. Rooms have their own bathroom with shower and tub, air conditioning, telephone, satellite television, clock radio, coffee maker, hair dryer, as well as an iron and ironing board. Rooms receive daily maid service. Bring a friend for your roomate.
Private Lodge Room:
Need your own space? If you select the private lodging option you'll have your own lodge room for five nights with all of the above amenities.
What Is Included?
Your registration fee includes:
Park lodging for five nights - Sunday through Thursday.
Four to a cottage. Two to a lodge room.
Breakfast - Monday through Friday.
Dinner - Monday through Thursday.
All Evening Activities.
A Trail Crew T-Shirt.
All Trail Tools.
Safety Equipment.
Instruction on Trail Maintenance and Trail Safety.
Supervision by Experienced Trail Crew Leader.
Comradery, fun and a sense of accomplishment!
What Is Not Included?
Lunch - Pack Your Own. On The Trail.
Transportation.
Sunday & Friday Dinners.
What To Bring:
Check out our
List of Items To Bring
so you are fully prepared!
Your Trail Crew Leader:
Andy Niekamp.
Andy Niekamp is an experienced trail crew leader with the Kentucky State Park system. He has led volunteer trail crews from the Americorps and American Hiking Society for the past several years. Andy is a section supervisor for a 50-mile section of the Buckeye Trail and North Country National Scenic Trail in Ohio where he oversees a crew of trail adpoters. He can be found joining trail crews on the Florida trail during the month of Febrary. Andy is a certified chainsawyer by the United States Forest Service and is a Wilderness First Responder. Andy has backpacked over 14,000 miles including four end to end hikes of the Appalachian Trail and thru hikes of the Buckeye Trail, Ohio To Erie Trail, Sheltowee Trace, Long Trail, Ozark Highlands Trail, Colorado Trail, Superior Hiking Trail and the Bartram Trail. Andy is founder and leader of the Dayton Hikers group, the largest outdoor recreation group in Dayton, Ohio, and a Leave No Trace Master Educator. Andy Niekamp grew up and lives in Dayton and has a passion for long distance hiking which he shares with others. Andy brings his wealth of backpacking experience and his passion for trail maintenance.
Operated on Kentucky State Park lands in Carter Caves State Resort Park with special permission.
---
Here Is What They Say About Our Volunteer Vacations:
The accommodations were awesome and really enjoyed the variety of evening activities.
–
Barb K.
I liked Andy's leadership style: allowing flow to the work ; encouragement; teaching; sense of humor, appreciation and respect for each person.
–
Karen K.
I appreciated mix of experienced and newbies.
–
Karen K.
The organization of the trail projects was well planned - we had what we needed, where we needed it. It was nice having park employees join us each day too.
–
Barb K.
I enjoyed the activities in the evening and the variety of dinner options
–
Sue H.
---
Cancellation Policy:
Cancellations received at least 6 weeks prior to the start date of the volunteer vacation will receive a $175 refund. No refund will be made if cancellation is made less than 6 weeks prior to the start date or if the participant fails to show up for the project including reasons of injury or illness.
Important:
All participants must complete an volunteer vacation application and sign a liability waiver.
Volunteer Vacation Application PDF to download/print.
Application must be returned for your registration to be confirmed.
Notes:
Minimum age is 18. No pets permitted. All of our trips are non-smoking. A recommended packng list, meeting location and trip details will be sent via email to registered participants.
It is perfect. – Mary M.