Women's Adventure and Yoga Weekend
Carter Caves State Resort Park, Kentucky
September 14 - 17, 2023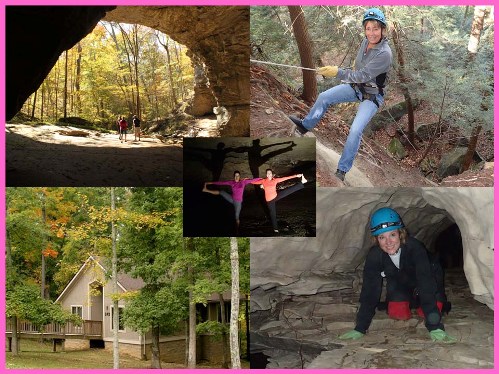 Women's Adventure and Yoga Weekend
September 14 - 17, 2023
Carter Caves State Resort Park, Kentucky
Limit 20 participants

Registration Fee: $570.00/person.
Paid online.
WORKSHOP FULL. Join the waiting list.
Want to be added the waiting list?
Send us an email with your first name, last name, phone number and trip name to
andy@outdooradventureconnection.com
and we will add you to the waiting list. We can and do cancellations.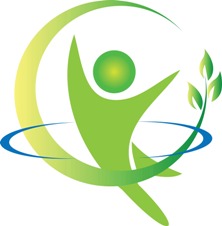 "The Power of Adventure - Nature, Hiking, Rappelling, Cave Exploring, Yoga, SUP/Kayaking, Healthy Eating, Wellness and Fellowship"
Enjoy an adventure-packed, getaway weekend at Carter Caves State Resort Park. This women's only wellness weekend focuses on adventure, fitness and good nutrition.

Reenergize your mind and body! Hike as you take in the beauty of the fall colors, rappel from a sandstone cliff, explore the natural wonders of caves in one of the largest natural cave systems in eastern Kentucky, and reach optimal physical and mental relaxation under the expert guidance of a certified yoga instructor and a certified health minister.
Overview:
This is a four-day, three-night, adventure, yoga and wellness outing for ladies in the wilderness beauty of Carter Caves State Resort Park. The weekend includes fun activities inside, outside, and underground which are designed to help you unwind as you enjoy nature and make new friends. The deluxe cabins offer inviting and comfortable accommodations.
About Carter Caves:
The beautiful setting of Carter Caves State Resort Park is the ideal setting for this adventure outing. Nestled in the hills of Eastern Kentucky, Carter Caves is 2,000 acres of wooded hills rich in plants, animals and geologic formations both above and below ground.
Carter Caves State Resort Park Web Site
Lodging
The Cabins:
No roughing it here! These deluxe cottages have all of the modern conveniences of home. Each cottage has two bedrooms, four double beds, two full bathrooms, full kitchen, wood burning fireplace, couch, covered deck, TV and telephone. Tableware, cooking utensils, linens and firewood are provided. The cottages have a refrigerator, microwave, dishwasher and coffee maker. Daily linen is service available. Four women to a cottage. Come with a group of four and have a cottage to yourselves.
Cabin check-in is late afternoon.
Hiking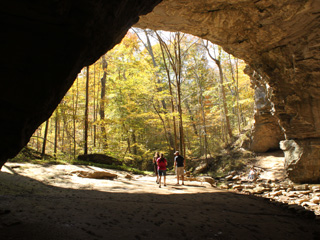 The Trails:
There is plenty of above-ground adventure on the twenty-six miles of nature trails at Carter Caves State Resort Park. While the park is known for its caves and caverns, its best kept secret is the hiking trails. The scenic trails wander among sandstone cliffs, beautiful arches and natural bridges. You will hike the best of the best trails during this weekend.
Three Bridges Trail:
As the name implies you'll see three impressive natural bridges on this 3.5 mile loop hike including the largest bridge in eastern Kentucky. You will marvel at these beautiful bridges as you get an up-close view of them.
Natural Bridge Trail:
This short, half-mile trail, takes us through and over an impressive limestone natural bridge. Natural Bridge is one of the landmarks of the area and is quite unique in Kentucky.
Box Canyon Trail:
One of our most scenic trails and passes unusual geologic features in the park, including the Cascade natural bridge, the Box Canyon and the wind tunnel. This trail is hilly and fairly difficult and is slightly less than one mile long.
Horn Hollow:
This hilly, but scenic trail takes you from the ridges into the streamless valley of Horn Hollow, where you see multiple cave entrances.
Cave Exploring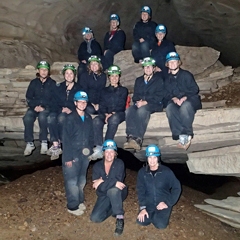 Wet, Wild & Mild Cave Trip:
Adventure awaits as you journey underground into the maze of natural passages of Cascade Cave. Our experienced and expert cave guide will lead you on a short hike of Box Canyon and then on the "Wet, Wild & Mild" caving experience in this majestic cavern. You'll explore the Cathedral Room, The Hanging Gardens of King Solomon and the Lake Room. Our guide will take you off the beaten path into wild and undeveloped cave passages. You will get waist-deep wet as you explore subterranean stream passages.
Some stooping, bending and hands and knees crawling is required. This is a strenuous activity. For those who are more adventurous, there will be plenty of optional cave crawling.
You will be outfitted with the proper caving gear and given safety and conservation instructions. All caving equipment is provided including a helmet, headlamp, coveralls and knee pads. This adventure is bound to be one of the highlights of your weekend!
X-Cave:
A commercial cave with electric lights. X-Cave has two vertical joint passages that meander through a large layer of limestone, putting you up-close to beautiful cave formations. Features include turkey rock, the pipe organ, and the giant column which is the largest cave formation found at the park. It's the one of the most unique caves you'll ever visit!
Rappelling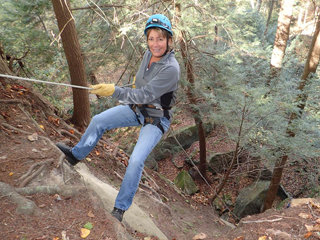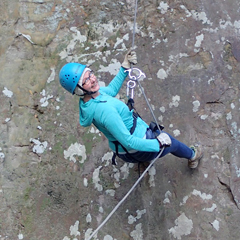 Rappelling:
Ready to try rappelling? This is your opportunity! Under expert guidance and with the proper safety equipment, you'll be given formal instructions, clipped into a harness, and monitored as you descend the beautiful, 60-foot sandstone cliffs of Carter Caves State Resort Park. Fun and excitement are guaranteed! No experience is necessary.
All equipment provided. For your safety and comfort, there is a weight limit of 250 pounds. In addition, you must also be able to fit into the harness per manufacturer's safety guidelines.
Yoga In The Cave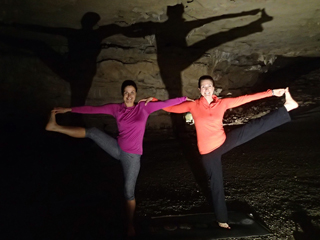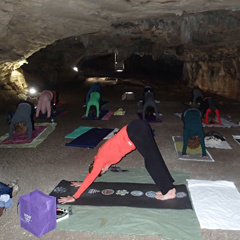 Relaxation Yoga:
We will take a trip to over to Cascade Cave where we will venture into the cave a short distance dressed for yoga. A silent, timeless chamber lit by soft cave lights makes the perfect atmosphere for yoga. Our certified yoga instructor, will take you through a series of yoga poses to stretch your muscles while breathing deeply, relieving stress and tension. The class will conclude with a long relaxation so that you feel calm, refreshed and renewed. This class requires no prior yoga experience.
Stand Up Paddle Board & Kayaking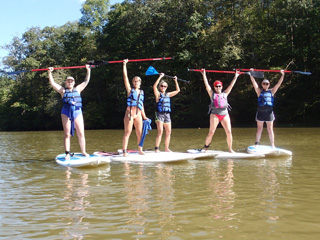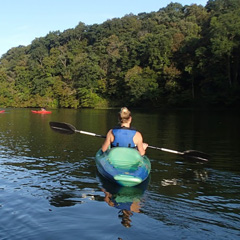 Stand Up Paddle Board & Kayaking:
Unwind after a day of adventuring with an evening of kayaking and stand up paddle boarding on calm and scenic Smoky Lake. Stand up paddle boarding offers a fun way to play on the water, with the added benefit of a full-body workout. And, since you stand at full height on your board, it gives you a unique vantage point for viewing what's down under the water and out on the horizon. Try both stand up paddle boarding and kayaking. Instruction provided.
Wellness Program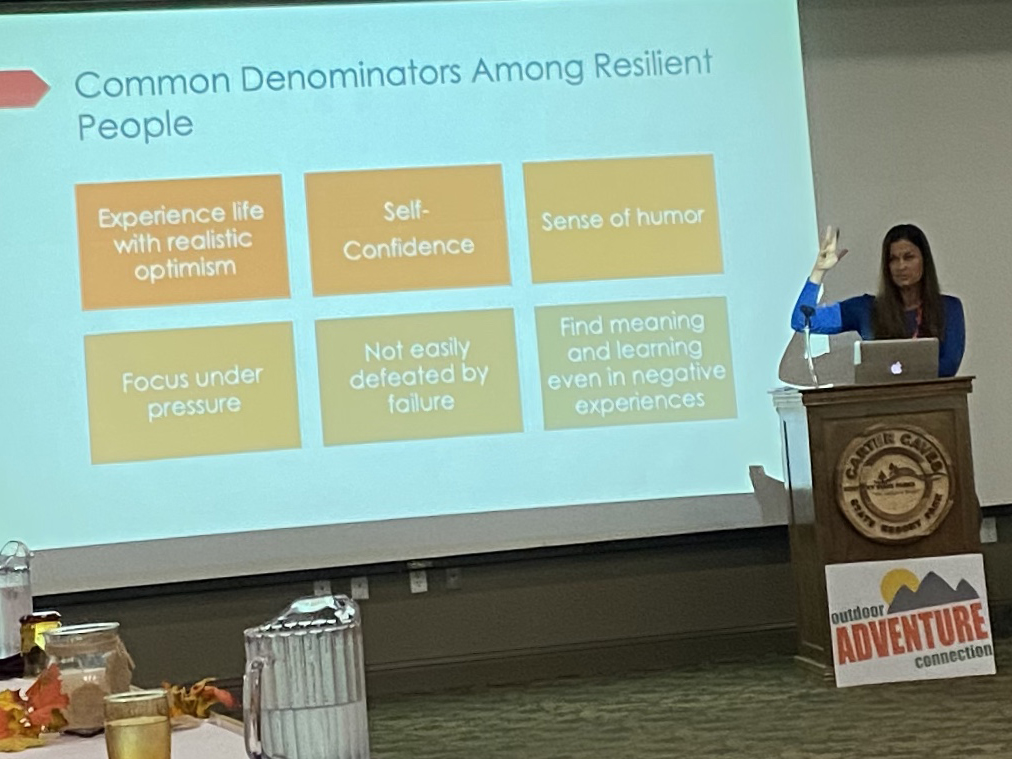 "Soul Care" - Taking a Deeper Dive into Self Care:
This session will look at self-care not just from the perspective of taking care of the physical self but an even more holistic approach to what is now being recognized as soul care. There are things from our past and present that we often don't even recognize that can hold us back from our full potential and, often, cause us to act in a way that is not congruent with our core beliefs and values. This seminar will teach us to integrate all parts of self and to recognize areas of our lives that may need more physical, emotional, or spiritual attention to become freer to enjoy the adventure and sense of wonder that life has to offer. Program presented by Kristy Matheson.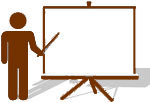 Thursday Schedule
| | |
| --- | --- |
| 7:00 pm | Meet and Greet: Prompt start in lower level of the lodge. |
| 8:00 pm | Presentation: "Soul Care" - Taking a Deeper Dive into Self Care. Olive Hill Room. |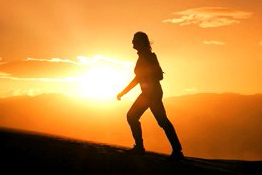 Friday Schedule
| | |
| --- | --- |
| | Breakfast: On your own. Dine in the lodge restaurant or prepare your own in your fully equipped cottage. |
| 8:00 am | Hike: Let's get moving! Three Bridges Trail. |
| 11:30 am | Lunch: Provided. In the Guide Cabin. |
| 1:00 pm | Rappelling: A scenic, fun and exciting rappel from a 60 foot sandstone cliff. |
| 3:00 pm | A Tour of X-Cave: An easy, walking cave tour. |
| 5:00 pm | Yoga In The Cave: Awaken your mind, body, and spirit. |
| 6:30 pm | Dinner: Provided. In the Guide Cabin. |
| 7:30 pm | Campfire: With smores. |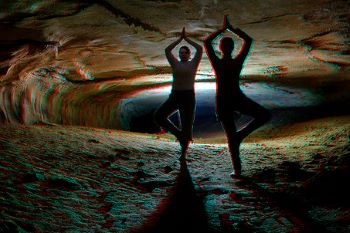 Saturday Schedule
| | |
| --- | --- |
| | Breakfast: On your own. Dine in the lodge restaurant or prepare your own in your fully equipped cottage. |
| 8:30 am | Wet, Wild & Mild Cave Trip: Let's explore majestic Cascade Cave and get off the beaten path. |
| 12:00 pm | Lunch: Provided. In the Guide Cabin. |
| 1:30 pm | Stand Up Paddle Board & Kayaking: Smoky Lake. |
| 3:30 pm | Free Time: Relax and unwind at your cottage. |
| | Or, for those who are all in .. |
| 4:00 pm | Hike: Horn Hollow Trail. |
| | Dinner: On your own. Dine in the lodge restaurant or prepare your own in your fully equipped cottage. |
| 7:00 pm | Sunset Yoga: Old golf course. |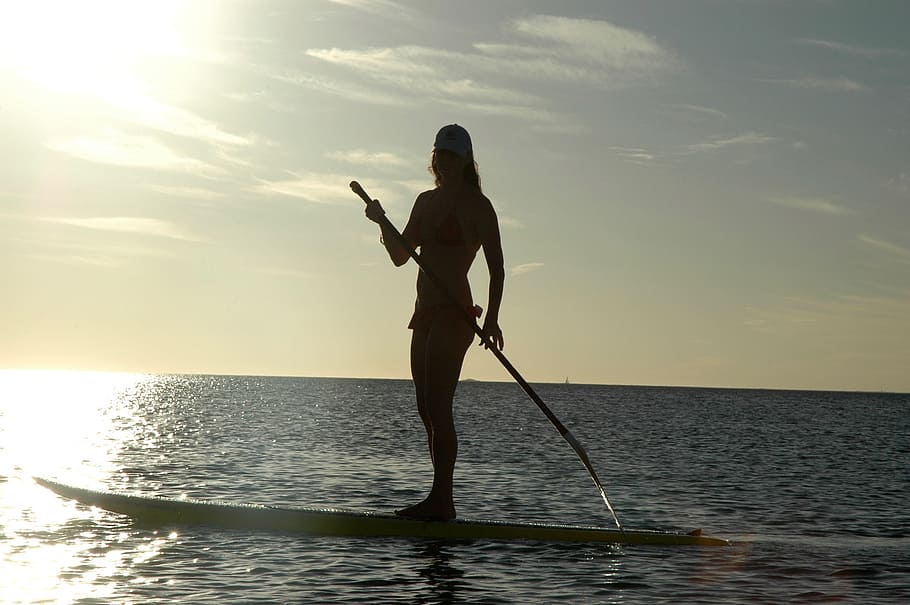 Sunday Schedule
Breakfast: On your own. Dine in the lodge restaurant or prepare your own in your fully equipped cottage.
8:00 am
Lakeside Yoga: Start your day with some stretching along scenic Smoky Lake.
9:00 am
Tomahawk Throwing Experience the thrill of throwing a tomahawk at a wooden target.
11:30 am
Event Concludes
Note:
The schedule of activities may be re-arranged or change depending on the weather conditions or factors outside of our control.

What Is Included?
Your registration fee includes:
Four days, three nights lodging for one person in a shared, fully equipped, deluxe cottage.
Lodging is four people to a cottage, two people to a bedroom)
Three Guided Hikes
Wet, Wild & Mild Cave Trip
Cliff Rappelling
Stand Up Paddle Boarding and Kayaking
Yoga In The Cave led by a certified yoga instructor
Sunset and Sunrise Yoga Sessions
Guided Walking Tour of X-Cave
Tomahawk Throwing
Wellness Presentation: When Your Ship Comes In
Three Meals: Friday lunch, Friday dinner and Saturday lunch. We apologize that we are unable to accommodate special dietary preferences.
Friday Evening Campfire with Smores
And More!
What Is Not Included?
Transportation
Thursday meals, breakfast, Saturday dinner
Snacks & drinks
Optional guide gratuities
What To Bring:
Check out our
List of Items To Bring
so you are fully prepared!
View the lodge restaurant
Breakfast Menu
and
Lunch & Dinner Menu
.
---
Your Adventure Guide and Yoga Instructor:
Kristy Matheson.
Kristy's passions are yoga, wellness and being in nature with just about any outdoor activity. Kristy is an experienced hike leader and an active member of the Dayton Hikers group. In her professional life she is a Licensed Social Worker, and Certified Dementia Practitioner. She is a talented motivational speaker on topics such as women's wellness and the therapeutic benefits of nature based adventure. Kristy is a 200-Hour Certified Yoga Instructor. In addition, she is certified in Wilderness First Aid and CPR/AED. Kristy and her husband have three children and live in Germantown, Ohio. She looks forward to sharing her passion of nature, adventure, yoga and wellness with you.
Your guide is highly experienced and has current Wilderness First Aid and CPR/AED certifications.
Here Is What They Say About Our Adventure and Yoga Outings:
I liked the variety of activities that were offered. The guides were very energetic and informative about the activities. I really enjoyed the Kristy's program on stress management at the beginning of the retreat.
–
Heather P.
I can't think of anything to change or do better. The park, facilities, trails and amenities were absolutely wonderful and beautiful. Very happy! The guides were great! They were interesting, provided a personal experience and were so very knowledgeable. So enthusiastic!
–
Debbie D.
I loved the daily yoga, especially the cave!
–
Kelli B.
I honestly feel the retreat was perfect. The attention to detail was amazing! Each activity was perfectly planned. I will recommend this if available in the future to everyone I know and will attend myself as well.
–
Sherry L.
I loved everything. All of the activities were well planned and coordinated. I appreciated that I didn't have to "think" I just showed up and everything was taken care of. The night of fellowship was a great time to share and get to know one another.
–
Sarah K.
Great schedule of events. Enjoyed that activities were optional. Good pacing during the day. Don't have any areas for improvement!
–
Missy R.
A PERFECT weekend...well-planned, seamless, and packed with fun things. I'm not a sit-around-and-chat kind of girl. I do better connecting through activates, so I liked it jam-packed! I really appreciated the thoughtfulness of the extras.
–
Renee W.
Loved it all!!
–
Mary U.
I liked that everyone was encouraged to do/try each activity but that no one was made to feel badly if they did not want to do something. It seems that everyone accomplished what they hoped and that people overcame their fears, too!
–
Amanda L.
Every excursion was well planned and detailed. I enjoy being pampered as well as being fit.
–
Jennifer L.
I loved the rappelling and the yoga in the cave, and of course, I always love hiking. The food was excellent, Linda and Kristy did a great job preparing it. The cabins were great, loved having the wood burning fireplace, and there was plenty of space for 4 people. The employees at the resort, from the restaurant to the guides, were all so nice.
–
Name Withheld
I don't know when I would ever get a chance to do that with such special people again. Loved it!
–
Janet R.
What an amazing experience! Thank you for sharing it with me and others.
–
Noelle A.
Still trying to absorb the absolutely wonderful experiences I had this past weekend. I highly recommend Outdoor Adventure Connection if you want to learn more about all things hiking. This is my second trip with them, and it was even more awesome than the first one.
–
Shelly M.
I thought you did a wonderful job of planning and organizing the trip. It was my first group tour and thought it was great!
–
Lucy W.
---
Operated on Kentucky State Park lands in Carter Caves State Resort Park with special permission.
---
READ THIS BEFORE REGISTERING:
Physical Challenge:
A good to an above-average level of physical fitness is a requirement to enjoy this event. All activities should be considered vigorous by this
CDC Scale
. You are responsible for determining if you are in a condition fit to participate. If you have any doubts, you should consult your doctor. People with an unhealthy BMI might find these activities too strenuous.
Meals We Provide:
Unfortunately, we cannot accommodate vegan, gluten free, dairy free, sugar free or allergy specific meals.
Cancellation & Refund Policy:
PayPal and online payment fees are non-refundable.
Cancel on or before June 1, 2023 and your registration fee is 100% refundable.
Cancel on or before August 1, 2023 and your registration fee is 75% refundable.
Cancel on or after August 2, 2023 and no refunds are offered.
Your registration fee is 100% refundable if this event is canceled or rescheduled.
Important:
All participants must complete an adventure application and sign a liability waiver. An application must be returned for your registration to be confirmed. Choose one of these two versions:
Adventure Application PDF with fill-able form fields
Adventure Application PDF to download/print.
Notes:
Minimum age is 18. No pets are permitted. All of our trips are non-smoking. A recommended packing list, meeting location and trip details will be sent via email to registered participants.
It was all excellent. I would not have changed a thing. It was as described when I signed up. The guides were so helpful, informative, answered all questions and were only encouraging in all our efforts. I give them an A+ – Kelly E.