Carter Caves State Park, Kentucky
Learn & Do Trail Maintenance + Campout
August 17-20, 2023
Learn & Do Trail Maintenance + Campout
August 17-20, 2023
Carter Caves State Resort Park, Kentucky

Fee: $35.00 - Includes camping for three nights, two dinners, all instruction, personal safety equipment and fun evening activities.


Register by July 1, 2023 and receive a free Trail Crew shirt!
Limit 20 participants
Registration Has Closed
Join the Trail Crew At Carter Caves State Resort Park!
Description:
Join the Carter Caves trail crew and spend a weekend at Kentucky's best-kept secret learning about and doing trail maintenance. Your volunteer efforts will improve the trails at the park and make them safer and more enjoyable for park visitors.
Projects include installing ~20 signposts with imprinted aluminum trail maps along the Three Bridges Trail, fixing and replacing wooden footbridges, and correcting erosion problems.
This is a three-night campout with 2 1/2 days of working on the trails. No experience is required. Upper body strength is not required. This is for men and women of all ages.
Tools, safety equipment, and instruction provided. You'll be taught the basics of trail maintenance and will put those techniques to use. In the evening, enjoy fun activities at the park. Give back to the trails! Come with a friend.
About Carter Caves:
The beautiful setting of Carter Caves State Resort Park is the ideal setting for this trail crew event. Nestled in the hills of Eastern Kentucky, Carter Caves is 2,000 acres of wooded hills rich in plants, animals, and geologic formations both above and below ground. Carter Caves is home to over 30 miles of hiking trails and over a dozen caves.
Park Web Site
Map Link To Carter Caves State Resort Park
View The Photos From May 2022- Crew 1 Learn & Do Trail Maintenance Events
View The Photos From May 2022- Crew 2 Learn & Do Trail Maintenance Events
The Schedule
Thursday: Arrive at the park in the afternoon. Set up your campsite. At 7:00 pm we'll meet for orientation, introductions, safety talk, and instruction on the basics of trail maintenance. Afterward, we'll get underground for a short cave tour of X-Cave.
Friday: Our workday is from 8:00 am - 3:00 pm. Plan on spending the whole time outside on the trails. We'll meet again at 6:00 pm for a pizza dinner at the pool. After dinner, we'll enjoy an optional, fun activity at the park.
Saturday: Our workday is from 8:00 am - 3:00 pm. Plan on spending the whole time outside on the trails. We'll meet again at 6:00 pm for a buffet dinner in the lodge restaurant. After dinner, we'll enjoy an optional, fun activity at the park.
Sunday: Our workday begins at 8:30 am and ends at noon. We will use this time to finish up any projects and clean tools. Depart.
Evening Activities
Thursday: Walking Tour of Saltpeter Cave. Saltpetre Cave is considered by many historians to be the site of the earliest industry in the area. The cave was used during the War of 1812 as a source of the major ingredient in making gunpowder, Saltpetre, and is currently listed on the National Register of Historic Places. Discover a fascinating segment of Kentucky's history as you take a step back in time over 200 years ago.
Friday - Pool / Mini Golf. Take a dip in the swimming pool or enjoy the 18-hole miniature golf course. The choice is yours.
Saturday - Walking Tour of Bat Cave. Let's cool off with an easy walking tour of Bat Cave which is the longest cave found within the park. The Bat Cave Walking Tour is a wild cave tour, and is usually considered rugged and strenuous but we plan to take it easy and tour the larger passages. The cave is completely undeveloped. Equipment provided.
Camping
Camping: Bring your tent as camping is included in your registration fee. Our campsite location is Bunkhouse # 1 in the main campground. The campground has a camp store, showers, laundry, and drinking water. The bunkhouse has electricity and A/C.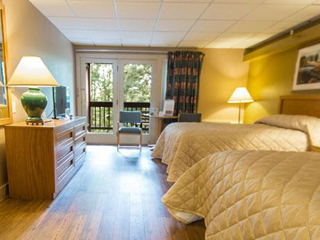 Alternate Lodging:
We've arranged a special rate of $69.95/night plus taxes & fees for a limited number of lodge rooms for trail crew members. Upon registering ask Andy for the booking code to receive this rate. The regular rate is $129.95/night plus taxes & fees.
What Is Included?
Your $35.00 registration fee includes:
Three nights of camping (Thursday through Sunday)
Friday Pizza Dinner
Saturday Buffet in the Lodge Restaurant
Three Evening Activities
Hard Hat, Safety Glasses, Foam Ear Plugs (You keep)
All Trail Tools
Instruction on Trail Maintenance and Trail Safety
Supervision by Experienced Trail Crew Leaders
Comradery, fun and a sense of accomplishment!
What Is Not Included?
Breakfast - Bring your own or dine in the lodge
Lunch - Pack Your Own. On The Trail.
Camping Equipment
Transportation
What To Bring:
Check out our
List of Items To Bring
so you are fully prepared!
Your Trail Crew Leader:
Andy Niekamp.
Andy Niekamp is an experienced trail crew leader with the Kentucky State Park system. He has led various volunteer trail crews since 2014. Andy is a former section supervisor for a 50-mile section of the Buckeye Trail and North Country National Scenic Trail in Ohio where he oversees a crew of trail adopters. He can be found joining trail crews on the Florida trail during the month of Febrary. Andy is a certified chainsawyer by the United States Forest Service and is a Wilderness First Responder. Andy has backpacked over 14,000 miles including five end to end hikes of the Appalachian Trail and thru hikes of the Buckeye Trail, Florida Trail, Ohio To Erie Trail, Sheltowee Trace, Long Trail, Ozark Highlands Trail, Colorado Trail, Superior Hiking Trail and the Bartram Trail. Andy is founder and leader of the Dayton Hikers group, the largest outdoor recreation group in Dayton, Ohio, and a Leave No Trace Master Educator. Andy Niekamp grew up and lives in Dayton and has a passion for long distance hiking which he shares with others. Andy brings his wealth of backpacking experience and his passion for trail maintenance.
Operated on Kentucky State Park lands in Carter Caves State Resort Park with special permission.
---
Here Is What They Say About Our Learn & Do Trail Crew Events:
I loved having the park staff involved and our group breakfasts.
–
Karen K.
The accommodations were awesome and really enjoyed the variety of evening activities.
–
Barb K.
It was great being able to stay in cabins, not camp out. The friendly and involved park staff made the event a sure success.
–
Frank C.
I liked our accommodations, food, and evening activities. I enjoyed meeting the Carter Cave park staff.
–
Debbie B.
The schedule was good. One week was perfect. Work/play ratio was great.
–
Sterling D.
I liked Andy's leadership style: allowing flow to the work ; encouragement; teaching; sense of humor, appreciation and respect for each person.
–
Karen K.
The organization of the trail projects was well planned - we had what we needed, where we needed it. It was nice having park employees join us each day too.
–
Barb K.
It was physical and labor intense which gave me a great sense of accomplishment. Thank you Andy for the week I needed that escape and opportunity to see what I could do.
–
Debbie B.
I enjoyed the activities in the evening and the variety of dinner options
–
Sue H.
I appreciated mix of experienced and newbies.
–
Karen K.
READ THIS BEFORE REGISTERING:
Cancellation Policy:
No refunds offered. Your registration fee is non-refundable unless this event is cancelled or rescheduled.
You must be at least age 18 to register for this event. No exceptions.
First time trail crew registrants must attend the orientation & safety talk on Thursday evening. No exceptions.
By registering for this event you agree that you can arrive at the park on Thursday evening and stay until the conclusion of work on Saturday. Your registration is subject to cancellation if you are unable to do so.
All participants must complete an trail crew application and sign a liability waiver.
Trail Crew Application PDF to download/print.
Application must be returned for your registration to be confirmed.
No pets permitted. Our events non-smoking. Details will be sent via email to registered participants.
Great job! Thank you for hosting a great weekend! And great pictures! – Scott G.