Adventure Trips - Ready for adventure?
Appalachian Trail Backpacking Workshop & Trip
June 7 - 11, 2023
The Roan Highlands in Tennessee and North Carolina
Fee: $460.00
This is a four night, backpacking trip to an area many consider the most beautiful section on the entire southern Appalachian Trail.
Read More and Sign Up!
---
Learn & Do Trail Maintenance
August 17-20, 2023
Learn & Do Trail Maintenance + Campout at Carter Caves State Park, KY
Fee: $35.00 - Includes Camping, Two Meals, Evening Activites and Safety Equipment (you keep)
Read More and Sign Up!
---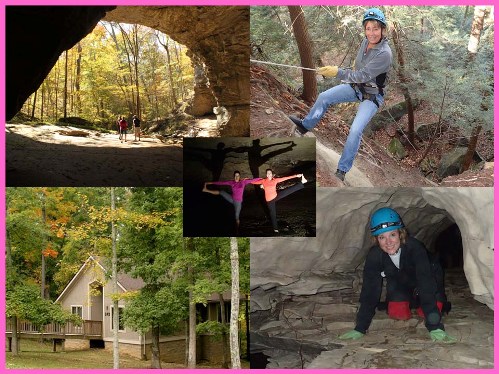 Women's Adventure and Yoga Retreat
September 14 - 17, 2023
Carter Caves State Resort Park, Kentucky
Fee: $570.00
Escape from your stress and daily pressure. Enjoy an adventure, yoga and wellness retreat with a focus on peaceful spaces and outdoor adventure. Stay in deluxe cabins. Activities including hiking, cave exploring, yoga, rappelling, relaxation and more!
Read More and Sign Up!
---
Want to get email announcements of our upcoming trips?
Join our mailing list!
Visit Our Mailing List Page
.
The program covers the ethics behind Leave No Trace principles and why we all should try our best to be good stewards of our environment. Captain Blue's leadership and interpersonal skills were second to none. He is the consummate professional but keeps the atmosphere relaxed, fun and flexible. Thank you for exceeding my expectations. – Dirk W.