Appalachian Trail Backpacking Workshop & Trip
The Roan Highlands in Tennessee and North Carolina
June 7 - 11, 2023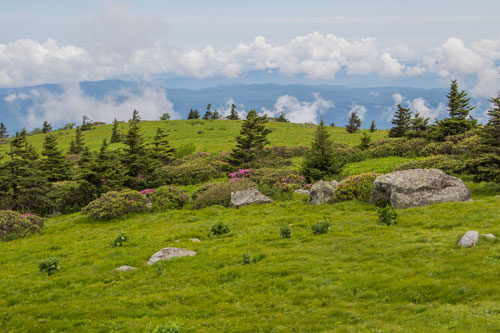 Appalachian Trail Backpacking Workshop & Trip - Group A
June 7 - 11, 2023
The Roan Highlands in Tennessee and North Carolina
Limit 8 participants

Registration Fee: $460.00/person.
Paid online.
WORKSHOP FULL. Join the waiting list.
Want to be added the waiting list?
Send us an email with your first name, last name, phone number and trip name to
andy@outdooradventureconnection.com
and we will add you to the waiting list. We can and do cancellations.
Description:
Increase your level of backpacking expertise and whet your appetite for a long- distance hike on this 4 day, 3 night Appalachian Trail backpacking adventure. This hike includes spectacular, wide open panoramic views of the Roan Highlands, a stay at the highest shelter on the Appalachian Trail and educational workshops. Roan Mountain is famous for its spectacular natural gardens of Catawba rhododendrons.
This is a great hike for intermediate backpackers wishing to increase their distance as well as number of days in the backcountry. This trip is designed for those who wish to go backpacking on the trail with experienced guides and those who wish to learn more about Appalachian Trail hiking. The night before our trip will be spent at Mountain Harbour Hostel and B&B in Roan Mountain, Tennessee,an Appalachian Trail hiker's favorite.
Prerequisite:
Our Backpacking Workshop and Overnight Trip or equivalent. Participants must be in good physical condition and able to handle strenuous activity for a sustained period of time. Please check with your doctor if unsure.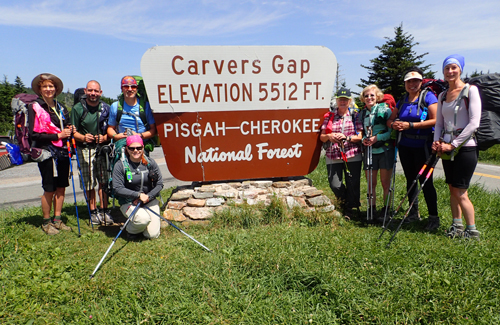 The
Roan Highlands
are one of the most beautiful places on the southern
Appalachian Trail
. Roan Mountain is a true gem of the southern Appalachian Mountains. Whether hiking the grassy balds or strolling through gardens of tree sized catawba rhododendron, this place has a special feeling. The air is thin here and the climate feels like Canada. The wind swept forest of spruce and fir lives like an island floating above the mixed hardwood forest below. While the highest parts of the mountain have a dark mossy forest, much of the highlands are lacking trees. The Appalachian balds of the Roan are meadows in the sky. Roan Mountain is the highest point in the area, peaking out around 6,300 feet. The Tennessee - North Carolina state line runs across Roan Mountain.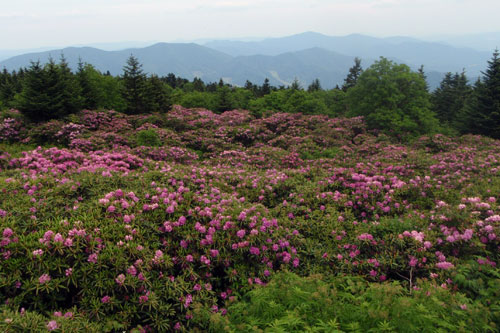 Probably the most beautiful place I have ever been is a stretch of the Appalachian Trail along the border of North Carolina and Tennessee near Roan Mountain and some of the highest peaks in the eastern United States. This section of the trail from Roan to Jane Bald and Grassy Ridge winds along the ridges at an altitude from 5000 feet to over 6000 feet through mostly open meadow. From the parking lot at Carver's Gap, the trail ascends approximately 1000 feet via log steps to the summit of Round Bald, elevation 5826 feet. Although it doesn't look very steep from the parking area, half way up the incline it becomes very clear that one is gaining significant altitude. There is no need to rush the climb, though, because the slope is adorned with beautiful rhododendrons and azaleas, and the views of Roan High Bluff and the surrounding mountains are spectacular. Scattered throughout the grassy meadow are beautiful specimens of the purple rhododendrons (R. catawbiense), a few flame azaleas (R. calendulaceum), occasional blooms of the rare Gray's Lily (Lilium grayi), many other wild flowers. (
Don Hyatt
)
Read More
IMPORTANT - READ THIS!
Weather on Roan Mountain is highly changeable. Severe weather can be encountered on any day of the year. Cold temperatures, thunderstorms, hail, lightning, high winds, fog and low visibility can occur in June. Hiking in the Roan Mountains is challenging. Our route includes long, prolonged climbs that are steep at times. The Appalachian Trail which ascends and descends the summits of the Roan Highlands often go straight up and down the mountain without switchbacks. This hike should be considered strenuous as the trails can be rugged, rocky and muddy. This combined with ever-changing weather conditions make this a challenging hike which should only be attempted by people in good physical condition. Your pack weight must not exceed 30 pounds.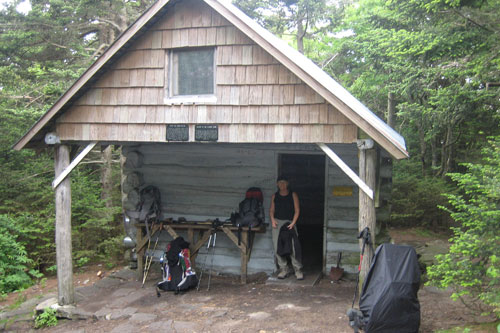 Details:
We'll hike ~21 miles over four days. This trip is designed to be both a learning experience and a backpacking adventure on the Appalachian Trail. Workshops will cover various Appalachian Trail topics. The goal of this trip is to help each participant become more confident in his/her own backpacking ability while enjoying the scenic beauty of the Roan Highlands. This pace of this hike is moderate with ample time allowed for rest breaks and dealing with changing weather conditions.
Wednesday:
Plan to arrive no later than 3:00 pm in Roan Mountain, Tennessee. We'll spend Wednesday night in the Mountain Harbour Hostel and B&B. Car pooling available. We will enjoy wood fired brick oven pizza at Smoky Mountain Bakery for supper.
Mountain Harbour Hostel Web Site
~
Map Link To Mountain Harbour Hostel
Thursday:
We'll begin our day with a buffet-style breakfast at the Mountain Harbour Hostel; then catch a shuttle and start our hike at Hugh's Gap, hiking ~5 miles on the Appalachian Trail. This part of the hike is mostly uphill and sometimes steep. At the summit of Roan Mountain, we'll camp near the Roan High Knob Shelter in tents.
Friday:
We'll backpack ~7 miles on the Appalachian Trail through the spectacular Roan Highlands, including Jane Bald, Round Bald and Grassy Ridge. Accommodations for the night will be camping near Overmountain Shelter, one of the most scenic shelters on the entire AT.
Saturday:
We'll backpack ~6 miles on the Appalachian Trail through spectacular Roan Highland country including Little Hump Mountain and Hump Mountain, setting up camp at Doll Flats campsite.
Sunday:
We'll backpack ~3 miles back to Mountain Harbour Hostel for the return home. Showers available for $5 at the hostel after the hike.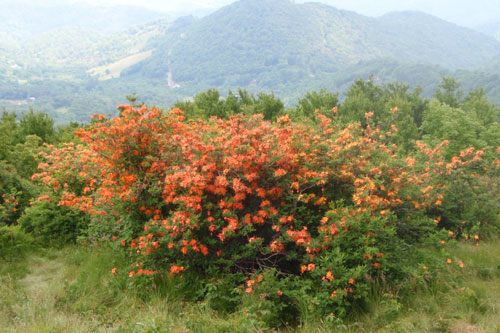 During this tip we will conduct informal Appalachian Trail educational workshops.
Workshops:
Lighten Your Load. How to make your backpack lighter.
Leave No Trace along the Appalachian Trail.
Reading and understanding Appalachian Trail maps, guidebooks and data books.
Appalachian Trail shelter usage, rules and etiquette.
Campsite selection on the Appalachian Trail.
Selecting water sources along the Appalachian Trail.
Water treatment options: pump filters, squeeze filters, chemicals or what?
Appalachian Trail lingo, slang and trail names.
Required Equipment:
Backpack and backpack rain cover
Pair of trekking poles.
Tent (1 person tent if solo or 2-3 person tent if shared with a friend)
Sleeping Bag & Pad
Headlamp or Flashlight
Lightweight camp shoes
Warm Clothes (warm hat, gloves, long underwear, down jacket or equivalent, 2-3 pairs of wool socks)
Stove and fuel (if cooking hot meals)
Water treatment (filter or chemical)
Rain Gear
Bandanna, whistle, drinking cup.
Food: 3 Breakfasts, 3 Lunches, 3 Dinners plus snacks.
Personal medications: Aspirin, Ibuprofen, Antacids, Pepto-Bismol, Prescriptions (as needed).
Important Note: Your backpack weight must not exceed 30 pounds.
Optional:
Your Guide.
Andy "Captain Blue" Niekamp.
Andy Niekamp is the Chief Adventure Officer for Outdoor Adventure Connection, which specializes in backcountry adventures. Andy has hiked over 26,000 miles including five end to end hikes of the Appalachian Trail and thru hikes of the Buckeye Trail, Ohio To Erie Trail, Florida Trail, Sheltowee Trace, Long Trail, Ozark Highlands Trail, Colorado Trail, Superior Hiking Trail, John Muir Trail and the Bartram Trail. Andy is founder and leader of the Dayton Hikers group, the largest outdoor recreation group in Dayton, Ohio, and a Leave No Trace Master Educator. Andy Niekamp grew up and lives in Dayton and has a passion for long distance hiking which he shares with others. Andy brings his wealth of backpacking experience and his passion for hiking to this program. He has two rules for his backpacking trips. Number 1: Be safe. Number 2: Have fun!
Here Is What They Say This About Appalachian Trail Workshop:
I would not change anything, the whole trip was fabulous. I enjoyed the workshops - especially the lingo workshop -- great way to break up the hiking and keep it entertaining!
–
Karen C.
The entire experience could not have been better. I will cherish the memory of our laughs and the breathtaking views for years to come.
–
Matt P.
I am so appreciative of the gentle manner in which Andy guides, coaches, encourages you to learn and grow. He sets you up so you feel confident to tackle a backpacking trip on your own.
–
Traci B.
What a FUN group!!! We sure were living and laughing and loving life!!!
–
Cindy S.
What a fabulous adventure! Where to start? This section of the Roan Highlands is magical in its beauty. The flowers, the trees, the boulders, the steep climbs, the grassy balds, set against the backdrop of mountainous ridge after ridge were breath taking.
–
Karen P.
I'm glad I went on this trip. I learned that the AT is a friendly place and that I can climb a mountain and gained confidence to return some other time and do it on my own. It was great meeting such a nice group of people, and I made some new friends to hike with back home.
–
Cheryl T.
Thank you for taking the time to share your passion with others. I am so thankful for our trail experience together. What an amazing group of people. The laughter we all shared! Such an amazing experience!
–
Andrea W.
Andy is a great leader; he helped us with our weaknesses and praised our strengths. He provided a nice balance of group hiking and also let us hike at our own pace. I would recommend this trip to anyone who has interest in hiking any type trail for an extended period of time. Experienced hikers would definitely benefit as well. If you have every wanted to "get out there" this is the trip to take.
–
Charley S.
I had an absolutely amazing time in the Roan Highlands. We hiked over beautiful grassy balds and mountains and had gorgeous weather, and were able to see all the mountains surrounding us. We saw beautiful flowers: rhododendrons blooming and fire azaleas and all sorts of wild flowers. I wish everyone could see such beautiful things and experience such peace, being out in nature.
–
Alyssa R.
Thank you so very much for allowing me to be a part of this trip. The views, the climbs, the learning, and the adventure made this a great experience.
–
Ben K.
---
Operated on the Pisgah National Forest under a special use permit. Non-Discrimination Statement.
---
What Is Included?
Your registration fee includes professional guides, all workshops, course material, Wednesday pizza dinner, Wednesday night stay at Mountain Harbour Hostel, Thursday morning breakfast, shuttle and parking fees. Each participant will receive copies of the Appalachian Trail map, guidebook, data book and handbook for the section we are hiking.
What Is Not Included?
Gear. Meals and snacks excepted where noted above. Transportation to and from the A.T. Optional guide gratuity.
Cancellation & Refund Policy:
Your registration fee includes a non-refundable deposit of 20% of the amount received. PayPal fees are not refundable. Your registration fee, minus the 20% non-refundable deposit, minus any PayPal fees, is refundable if you cancel 28 days in advance. Your registration fee is 100% refundable if this event is canceled or rescheduled.
Important:
All participants must complete an adventure application and sign a liability waiver.
Adventure Application PDF with fill-able form fields
or
Adventure Application PDF to download/print.
Application must be returned for your registration to be confirmed. Note: If you've attended one of our trips in the last 12 months we have an application on file for you.
Notes:
Minimum age is 18. No pets permitted. All of our trips are non-smoking. A recommended gear list, meeting location and trip details will be sent via email to registered participants.
The guide was a great leader. I will definitely do another. I look forward to the Appalachian Trail next year with you. – Jessica H.